Odoo Sales
Create professional sales quotation in one click using Odoo ERP Sales and CRM


Sales Quotation Template
You are finally in control of your sales and forecasting. Don't wait for deals to fall into your lap, create compelling quotes for your prospects.
The Odoo sales module is the best part. These Sales Quotation Templates will help you create quotes for your sales and also help you track your sales.With it running, you'll track your sales in real-time and give clients a taste of how your business works, after all, clients do love transparency.

Closing more sales with built in sales reports​


Closing more sales with
built-in sales reports
Sample: Sales Quotation Template
Find below a sales quotation template of the email template used by our Sales solution, Odoo ERP.
Odoo ERP offers the possibility of designing dynamic sales quotations that are fully configurable and automatically calculated.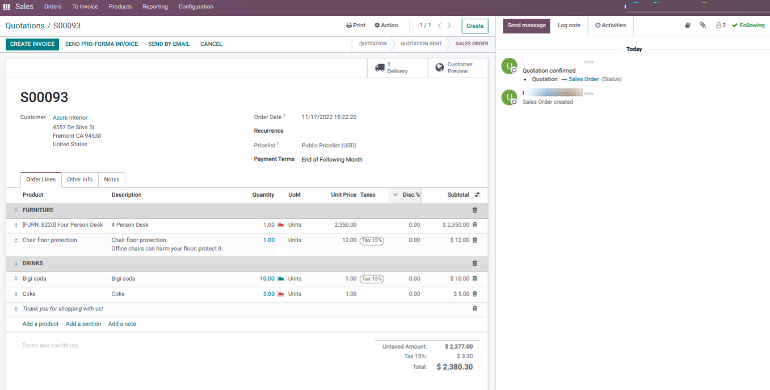 Steps in Making a Sales Quotation On Odoo

1. Log in to your Odoo account
2. Click on Sales ‣ Quotations and then click on Create

Complete your quotation as follows;

Add your customer information, including the address and contact.
Add your product, including type, cost and sale price as well as pictures and invoicing policy.
Print the quotation if you want and add the prices with a discount or send it right from the system.



Odoo makes it easy to create quotations, track and monitor sales.

Join us and make your company a better place.
Sales and CRM Odoo ERP Implementation