ERP for Oil and Gas Industry.



Digital Transformation with Odoo ERP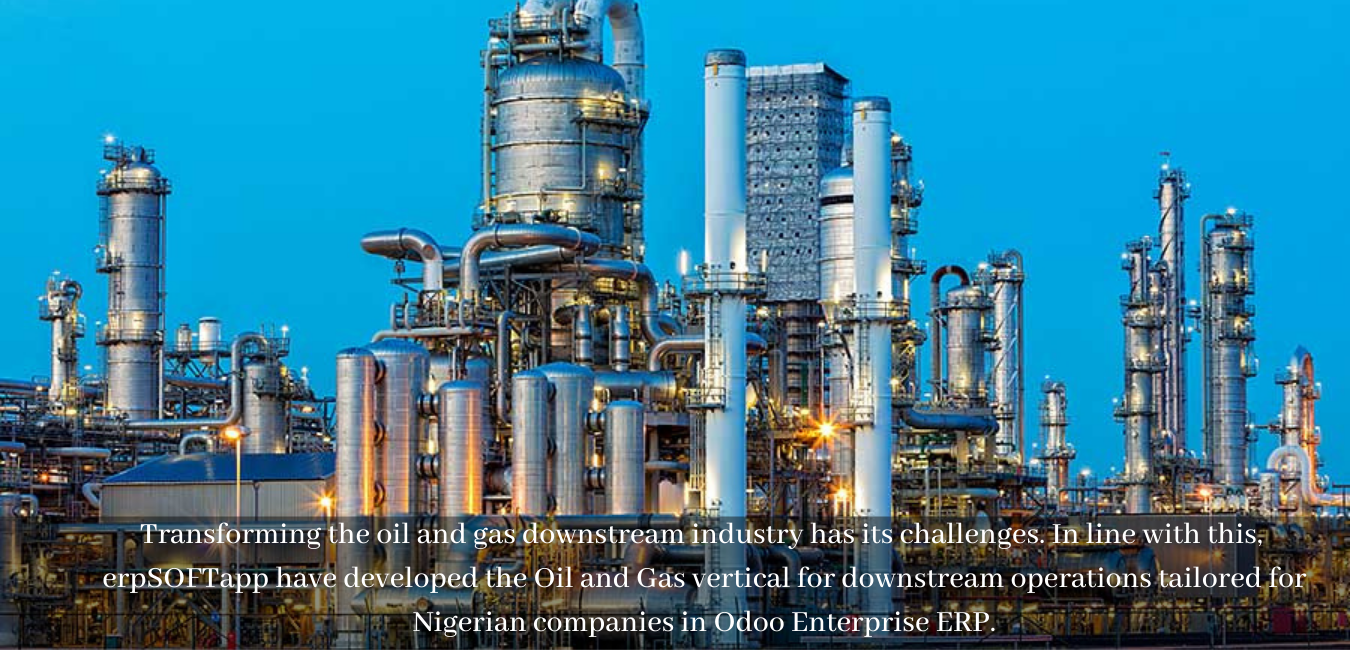 ERP for Oil and Gas Industry in Nigeria

The oil and gas industry in Nigeria accounts for over 90% of export and 80% of the country's revenue. Nigeria has the largest oil reserves in Africa with over 150 oil fields and over 1,400 active oil wells. This has attracted major Oil and Gas companies such as Total, Shell, Petrobras, Statoil, Nexen Inc etc. These companies spend millions of dollars on ERP platforms to manage their operations and personnel across typically global operations and to control their upstream and downstream operations.


What you Need to Know.
For oil and gas companies, it is important to choose the most modern, mobile, flexible system with the lowest total cost of ownership. In line with this, erpSOFTapp has developed the Oil and Gas vertical for downstream operations tailored for Nigerian companies in Odoo Enterprise ERP. Click DEMO now to request a demonstration. Transforming the oil and gas downstream industry has its challenges. One of which is ensuring that controls across the various key operations are consistent to manage operations such as;

1. Government Regulation

2. Department Petroleum and Resource

3. Shipping Companies

4. Depot Management

5. Petroleum Equitable Fund

6. Oil Marketers

7. Retail Stations and Forecourts

8. State Planning

9. Construction Companies

10. Fleet Management

11. Human Resources Management
With the deregulation of the oil and gas industry in Nigeria and the pressure being brought onto companies to control the market price of refined petrol, the market dynamic has changed considerably which means the only operators that can survive have a very efficient distribution process to ensure the sale of refined petroleum products remain profitable.


Challenges and Overcoming Them
Engaging in improving systems and processes on a platform is a key element to enable more effective operations though few companies undertake this journey due to several factors which include:

1. Internal resistance to change
2. Non-existent change management controls
3. Steering committee full-scale commitment to program objectives
4. Appetite to embark on a major transformation program
5. Full commitment to combating sharp practices.
For CEOs and owners of oil and gas companies who appreciate the winds of change that also impact this sector, they can use ERP platforms to enable efficient operations.
Adopting an Enterprise Resource Planning (ERP) system with the ability to run all their operations digitally is one way to increase efficiency, productivity and profits.
The price point of adopting an ERP system across the various platforms available in the marketplace will vary between millions to hundreds of thousands of dollars depending on the product and implementation partner.
ERP System Tiers
Tier 1
SAP, Oracle, Workday
Tier 2
Odoo, Microsoft Dynamics, Sage X3, Infor
These projects have a typical timeline of over 2 years. The operational aspects can evolve with the eventual benefit of impacting the bottom line of the company's profits and enable the real-time operation reporting they require on the business to give them the confidence to continue to expand their footprint in the marketplace.


Odoo ERP for Oil and Gas Industry
Overview of How erpSOFTapp Can Improve your Oil and Gas Depot Operations
The oil and gas companies that have survived the last few years rely on ready funding sources either through local or international finance houses. This is just one of the various halfway measures and solutions some Oil and Gas companies use.
The true leaders in the field make sure they have an ERP system to cover right across their operations.
Odoo ERP is the latest wave of ERP systems at a uniquely low ownership cost with the modern flexibility required to deliver a world-class solution to the Oil and Gas downstream sector to unify all aspects of operations at a competitive price point over a 5 or 10-year investment lifecycle for a business platform.
For companies that want to improve their operations, they should note that one of the biggest Oil and Gas downstream companies in the world Petronas run aspects of their operations on Odoo Enterprise ERP.